!! TSUNAMI ALERT !!

COASTBUSTERS ON-THE WATER SUNDAY CANCELLED
IKW is on as planned.
IKW Decision made at 11:30
Sunday 28 Feb.

Meet at Martin's Bay this afternoon
no later than 18:00, if you want dinner.
No reason not to go sooner and have a paddle. Keep an eye out for unusual waves ;-)


Review of the CB Sunday cancellation process:

We were alerted to the situation at 04:30
(thank you Jane) and after checking both the Pacific (Hawaii) Tsunami warning website and the NZ civil-defence website, found that the consensus at that time was a possible NZ effect of up to 3m
estimated to occur at 10:22 am today.

We had to make a call and could see no option other than to abort the CB on-the-water Sunday.
Decision made (by about 05:20), we organised a road-block on the road into Sullivan's Bay
(in-place at 05:50 on the Mahurangi West road,
thank you Steve & Nick), put a cancellation notice up on this website and started to notify key CB people - with a distributed and prioritised phoning plan. Within an hour, ARC had called us to confirm the evacuation (and closure) of Sullivan's Bay - so we had done the right thing.

CB-2010 had a detailed 'Plan-B' Sunday option for really foul weather - using Lake Pupuke.
Lake Pupuke is very close to the ocean and at a very low elevation. This morning, we judged it as potentially well within a 3m Tsunami danger zone.
We therefore concluded that Lake Pupuke was
not a suitable option for today's event.
This morning's whole process was not
unlike any other kayaking decision:-
"Is it wise to get on the water today,
with what we now know ?"

In hindsight, and with the enthusiastic input by all the hugely experinced paddlers at our current disposal, there has been regret at a lost day - but no suggestion that there could have been a different decision. You do what you have to do.

So, thank you for your understanding today and for the messages of support and for your patience.
We would like to say sorry (again) to those
12 cars that we couldn't contact in time
(who made it as far as the roadblock).

We would also like to thank all the CB participants for their enthusiaam and good humour. Thank you for coming and thanks for the positive feedback. We are sorry that we missed out on saying 'Goodbye' or 'See you again' to you all - and most especially to Satoru, Shiho, Jin, Colin and Dave who travelled so far.

What is Coastbusters 2010 ?
Coastbusters is s weekend of fun, seminars, workshops, panel discussions and practical sea kayaking sessions.
Held in Auckland every two years - this will be the 20-year anniversary of this great event - and will feature some amazing speakers, instructors and skilled kayakers from around New Zealand and the globe.
Non-profit as always, it is run by a band of volunteer kayakers with a passion for the sport that translates into an awesome weekend. Friday evening & Saturday will be on the shores of beautiful Lake Pupuke, while Sunday will be at even-more-beautiful Sullivans Bay.
Who is Coastbusters for ?
Novices, intermediate and advanced sea kayakers – anyone with an interest in sea kayaking (some paddling experience required for Sunday's on-the-water sessions).
This is the biggest New Zealand sea kayaking symposium. It is a chance to meet other kayakers, compare gear and ideas, listen to speakers from far and near, watch mind-boggling demonstrations and be astounded by what some kayakers get up to!
When & Where is it held ?
Last weekend in Feb. 2010 - Friday 26 - Sunday 28
Milford Primary School, Shakespear Rd, Milford, Auckland
bordering on Lake Pupuke. See Where is CB-2010.
Coming from out of Auckland? See Where to Stay.
Sunday's on-the-water and on-the-beach sessions will be at Sullivan's Bay Park (at the mouth of the Mahurangi, north of Auckland).
Coastbusters is a registered non-profit organisation. The entry fee of $140 includes: all sessions, demonstrations and workshops on Friday night & Saturday; as well as Sunday's on-the-water and on-the-beach activities. Also included is Saturday's lunch, refreshments and a banquet dinner; and Sunday BBQ lunch.
You look after getting you and your kayak there, accommodation and breakfasts on Saturday & Sunday.
How do I reserve a place ?
Click here to download the
Coastbusters 2010 Registration form (pdf)
You will be able to print it out and return it by mail with a cheque OR simply pay into our bank account electronically and email us the form (a photo of it will do).
Admission criteria, late-payment policy and cancellation policy are all on the Registration Form.
Bookings in order of receipt with payment.
We expect Coastbusters 2010 to fill up fast.
To avoid disappointment, book early.
Detailed programme still being finalised
CB-2010 speakers will include
Paul Caffyn & Conrad Edwards, Jim Kakuk & Eric Soares, Dave Winkworth, John Kirk-Anderson & Stephen Counsell
check the provisional one on Registration Form.

Also see Speakers & Topics
And the Sunday On the Water activities
You said we couldn't beat the last event
well we're going to do it !
NZ International Kayak Week Festival / NZKBGT
As before, CB (Coastbusters) runs from Friday evening to Sunday afternoon. In 2008, we responded to the pressure to extend the fun of CB past the weekend – and we organised the first NZ IKW - International Kayak Week.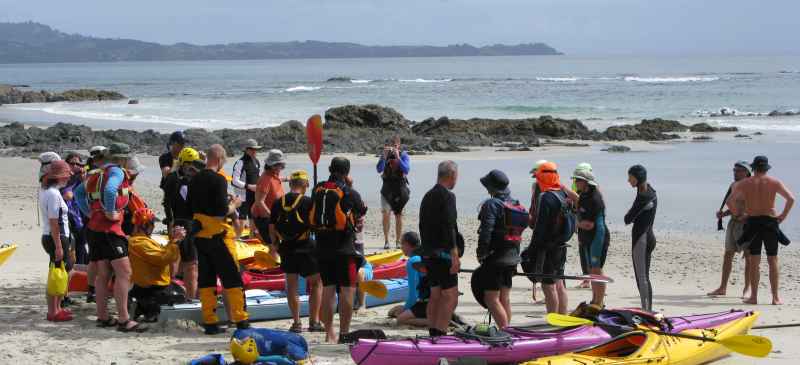 We also asked the organizers of the NZKBGT (New Zealand Kayak Builders Get-Together) event to schedule their event on the weekend following CB - to allow the three events to form a 10-day stretch of kayaking fun.
This worked really well and many overseas and South Island paddlers found the combination well worth the travel - as we had hoped.
These are separate events - at a more relaxed pace - with the chance to savour the experiences with other paddlers from around the world. In 2008, about 50 of the CB attendees (including many of the overseas kayakers) decided to attend the IKW and it was a not-to-be-missed experience of learning and comradeship.
Have a look here for more info on the IKW.
---
The weekend after CB-2010 (Friday-Sunday, March 5,6,7) will be the NZ Kayak Builders' Get-Together (NZKBGT).
This much-loved event is a super-laid-back weekend
focusing on hand-crafted kayaks & paddles and paddling
on the magic waters of the Lakes of the Rotorua District.
Hint: Just pretend you're planning to build your own kayak one day – and go... Everybody is welcome!
Have a look here for more info on the NZKBGT.
---
Kayakers from the South Island, Australia and the rest of the world now have a 10-day long kayaking bonanza – to make the travelling even more worthwhile.
Think seriously about planning on a whole week of kayaking first week of March, next year.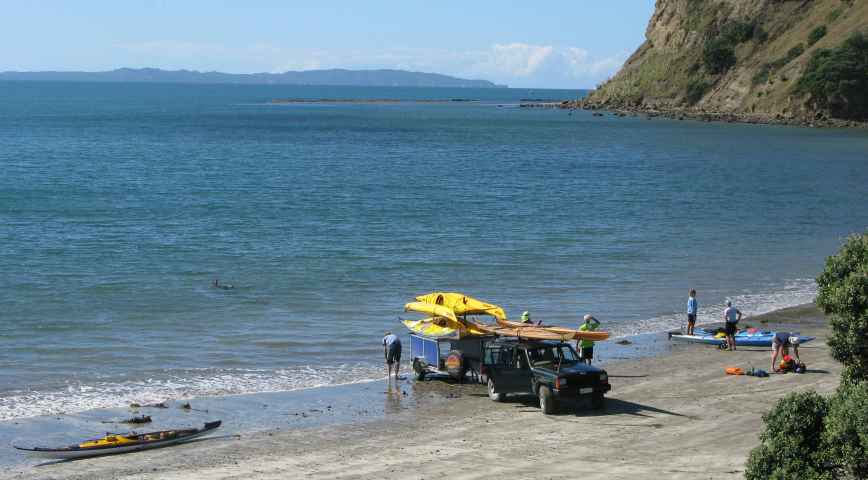 What participants liked the best...

"Being on/off the water with experienced paddlers in a knowledgeable sharing forum" – Phil

"Meeting new people and old friends. Time spent on the water" – Peter

"Everything! If I had to pick one thing, as an instructor, I benefited most from watching and learning from other instructors' teaching styles. I also liked the "dry one day, wet the next" format." – Shawn (USA)